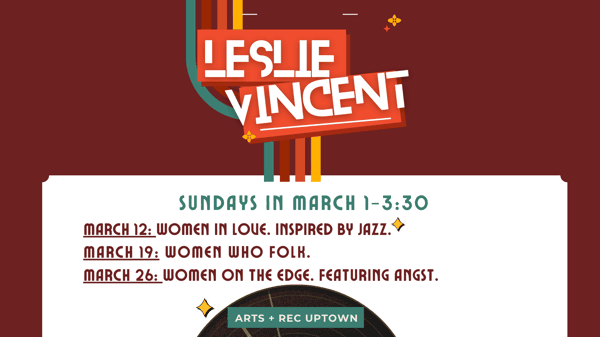 Leslie Vincent & Ted Godbout live music celebrating Women's History Month
Leslie Vincent and Ted Godbout bring you Sunday afternoons full of women-inspired music:

March 12th - Women in Love: jazz-inspired songs about being in and out of love, featuring songs from the Great American Songbook. 

March 19th - Women Who Folk featuring the warm vibes of Carole King, Carly Simon, Dolly Parton, Taylor Swift, Linda Rondstadt, Patsy Cline.

March 26th - Women on the Edge featuring the songs of Amy Winehouse, Adele, Alanis Morisette, Meredith Brooks, Natalie Imbruglia, and The Indigo Girls.