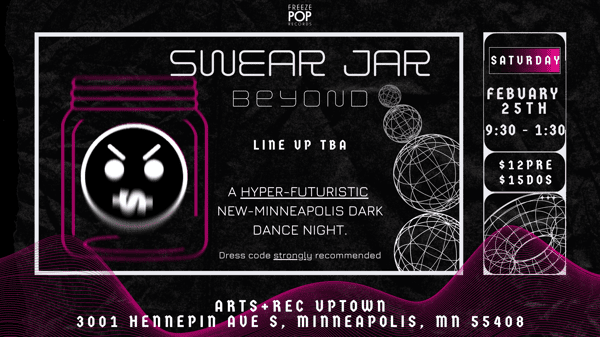 Swear Jar: Beyond
From Freeze Pop Records comes SWEAR JAR: Beyond, a hyper-futuristic New-Minneapolis dark dance night.

Featuring eclectic DJ's, hectic live acts and electric go go dancers, SWEAR JAR promises to whisk you away from the doldrums of modern human living.

While sonically exploring the history of goth, hyper-pop, techno, new wave, progressive house, techno, drum n bass, dark pop, shoegaze and most genres adjacent, SWEAR JAR presents something for the alternative anyone.

Set in the iconic ARTS + REC Uptown, all are welcome, so long as you are serving up aesthetic drama by-way-of 2099.
Come dressed up or down - dress code will be strictly enforced. What is the dress code? Don't ask us, just use your imaginations.

Saturday, February 25th, 9:30PM - 1:30AM | $12 advance/$15 at the door. Limited capacity. 

$50 VIP experiences offered (curated drink by Arts + Rec Uptown, VIP lounge, Swear Jar Merch, and a super secret handshake).


With meeting and exceeding the demands of the reality of the modern pop scene, Freeze Pop Records* is a label operated by and for artists, pushing the boundaries of ice cold pop music well past the freezing point.
*Formerly known as Placebo Records.
Swear Jar tickets